Earthquakes and Your Homeowners Insurance Policy
Paul Hoover IV, CPCU, CIC | August 2012
Many North Carolina residents were shocked when they felt the tremors from the earthquake a few years ago. Few people realized that we are close to a large fault line in Virginia. Did you know that there is a much larger fault line along the coast in South Carolina? Even our own state is filled with smaller fault lines. An earthquake strong enough to damage your home is unlikely, but it is possible.
Earthquakes are excluded from the standard NC Homeowners Insurance policy. It is a separate coverage that few people in North Carolina purchase.
How does coverage work?
You can add this coverage to your homeowners policy by a special endorsement. Cost for this coverage will depend on how likely your area is to have an earthquake and how prone your building is to damage. Wood frame buildings are thought to be a bit more resilient to earthquakes while masonry and masonry veneer buildings are more susceptible due to their rigidity.
Earthquake coverage has a high deductible of at least 5% of your coverage amount. This means that if you have a home covered for $300,000, your deductible will be at least $15,000. There may be also waiting period before you can buy coverage. Once an earthquake is registered in an area, insurance companies will not allow you to add the coverage until they feel that there is no longer a risk of aftershocks.
A separate assessment coverage is also available if you are part of a homeowners association that could assess you for damage done to buildings insured through the association.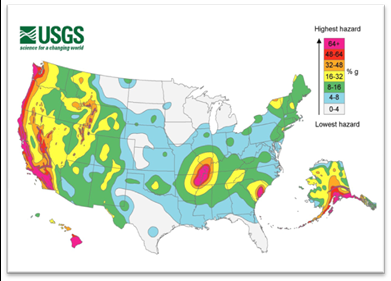 What to do in an Earthquake:
Do you know what to do in an Earthquake? It seems that many people in our community are under the impression that the first step to take during an earthquake is to run under a doorway or log onto the nearest computer and post about it on facebook. FEMA does not list either of these in the safety guide. Their Earthquake Safety Guide lists the following recommendations:
Indoors – Stay Indoors, "Drop, Cover, and Hold On." Get out of the kitchen or other areas where things may fall on you. Get under a sturdy table and hang onto it or against a wall. Standing in a doorway is likely to get you hit by a wildly swinging door or run over by people trying to get by.
Outdoors – Get into the open. Look out for things that could fall on you such as chimneys or power lines.
Driving – Stop your car as far out of traffic as possible. Avoid parking near trees, power lines, bridges or signs.
You can find a full copy of FEMA's Earthquake Safety Guide for Homeowners on FEMA's website:
DHB Personal Insurance | Personal Insurance FAQ | Request a Quote or Ask a Question