Automatic Coverage for Newly Acquired Autos on the NC Personal Auto Policy
DHB Insurance Agency

| March 2014 (Updated 2017)
The rules for automatic coverage differ depending on if you have a personal auto policy or a business auto policy. This overview discusses the process with NC personal auto policy form NC0001 6/05 and NC0013 (1/14).
When you have a policy in place, the PAP is designed to make adding a new car a simple process.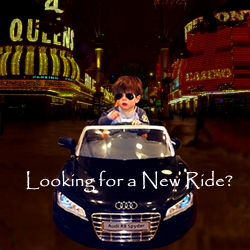 Your current NC personal auto policy automatically covers a newly acquired auto as long as you notify the insurance company about the purchase within 30 days.
This makes purchasing a vehicle late at night or on the weekends much simpler. Most dealers know about this automatic coverage, but we found that many of them do not understand that it has limitations.
A few of the common issues are listed below:
1. The Name On The Title Must Match The Name On The Policy
The policy picks up new vehicles owned by the named insureds. This includes the people listed as named insureds on the declarations page (and their spouse if members of the same household). The vehicle needs to be titled to the named insureds.
Two fairly common issues we come across are:
Car In Child's Name Having a child listed as a driver on the policy does not make them a named insured. They do not get automatic coverage.
Car In Business Name Even if you own the business, there is no automatic coverage for vehicles put in the name of a corporation or LLC (The same is true for a vehicle in your personal name when you have a policy in the business name).
2. Not all Vehicles Automatically Covered
Pickup Trucks and Vans are limited. They are only included if:
Pickup Trucks or Vans are under 14,000 GVW; and
Are not used for the delivery or transportation of goods or material
3. Only Your Current Coverage Is Automatically Extended
Replacing A Vehicle: You will have the same coverage you had on the vehicle being replaced.
Additional Vehicle: Comprehensive and Collision Coverage are only included if you have a vehicle with these coverages on your current policy. If you only have liability coverage on your current policy, you will only have liability coverage on the new vehicle.
4. We Never Get Notified
Dealers often promise to call the insurance agent and get the vehicle added. This call fails to happen with regularity. You signed paperwork agreeing to keep the vehicle properly insured. If they fail to make the call, you can end up with a major problem. If you do not hear from us, follow up to make sure that the vehicle has been added. If we are not contacted, the vehicle will become uninsured at the end the 30 day period.
If you have any of these issues, give us a call in advance. We can work with you to get the right coverage in place when you need it.
DHB Personal Insurance | Personal Insurance FAQ | Request a Quote or Ask a Question